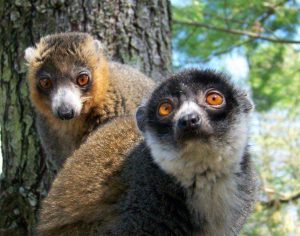 Lehigh Valley Zoo Animal Care Department – Here at the Lehigh Valley Zoo you can see our two resident mongoose lemurs, Develyn and Voangy! Mongoose lemurs are indigenous to Northwest Madagascar and have been introduced to the islands of Comoros. They can be found in dry deciduous forest and secondary forest. Mongoose lemurs usually weigh between 2.5 and 3.5 pounds and are about 2-3 feet long including their tail. In the wild, these lemurs eat fruit, flowers, leaves, and nectar. Because of this diet, mongoose lemurs play an important role as pollinators. Here at the zoo Develyn and Voangy are fed leaf eater biscuits, primate biscuits, and assorted fruits and veggies. Their favorite fruit is grapes and they love sweet potatoes!
    Develyn and Voangy are brother and sister, respectively. They were born at Roger Williams Park Zoo and now call the Lehigh Valley Zoo home. You can tell them apart by looking at their cheeks. Develyn has the rust colored cheeks while Voangy has white colored cheeks. All young are born with white cheeks, but the males change coloration and get the rust color when they are about 6-8 months old. Mongoose lemurs reach sexual maturity between 2.5 and 3.5 years of age and can live to be about 18-22 years old in the wild and about 30 years old under human care. Develyn is the younger sibling and is 22 years old; Voangy is the big sister and is 23 years old. Even though they are getting up in age, they are still very active and curious. You can find them up in the trees most of the time. This is because they are an arboreal, or tree-dwelling, species.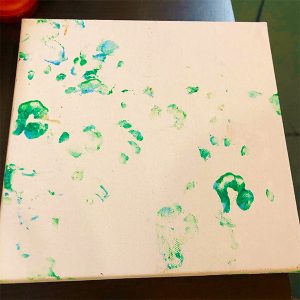 At the LVZoo we provide Develyn and Voangy with daily enrichment to keep their minds and senses stimulated, to keep them active, and to promote natural behaviors. Enrichment could be things like puzzle feeders to promote foraging behaviors. It could be novel scents to promote the use of their sense of smell. It could be new structures or things to climb on in their exhibit to promote locomotion and exploration. Providing enrichment is very important in their care and you can often see them interacting with such enrichment on lemur island.  Training is also a form of enrichment for the lemurs. Chris, our primary trainer for the lemurs, has been weight training, station training, and target training them. She has also been working on voluntary injection training so that during vet check-ups and when they receive vaccines, the lemurs will be less stressed. Recently, we have started doing paintings with the lemurs where Develyn and Voangy will paint on canvas! So far they have been very curious about the painting and get very excited to make masterpieces.
    The IUCN Red List has classified mongoose lemurs as Critically Endangered. Their habitat is being destroyed to create pastureland and to produce charcoal. They are also hunted throughout their range and are occasionally trapped for the pet trade. Luckily, organizations like the Lemur Conservation Foundation manage mongoose lemur breeding programs to help try and stabilize the population. In addition, zoos like the LVZoo are caring for and protecting mongoose lemurs to ensure the survival of the species. Mongoose lemurs are an amazing species and play an important role in the environment. To learn more about mongoose lemurs and their conservation and to see Develyn and Voangy first-hand, come visit the Lehigh Valley Zoo today!
Written by Chris Rizzo
Animal Keeper
Lehigh Valley Zoo | Schnecksville, PA