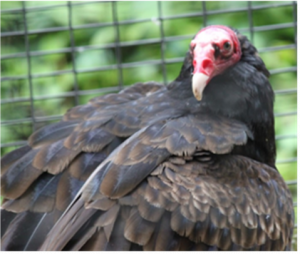 Each year, on the first Saturday in September, vultures are celebrated all over the world with International Vulture Awareness Day. This event started as many different Vulture Awareness Days until several organizations joined forces to create this special occasion. Wildlife centers, parks, and zoological facilities have educational programs and activities to bring awareness to these beautiful and important birds on this special day.
---
Know your Vultures
     There are twenty-three species of vultures which can be divided into two groups of vultures: New World and Old World Vultures. What's the difference? Old World Vultures are found in Europe, Asia, and Africa, but New World vultures can be found right in the Americas! Additionally, New World vultures have an excellent sense of smell, whereas the Old World Vultures rely mostly on their keen eyesight. Strong beaks and taloned feet allow for Old World Vultures to rip through larger, heavier carrion.
---
Local Vultures
     Pennsylvania is home to two different types of vultures, the turkey vulture and the black vulture. Since they are much more abundant, they can be seen across much of the state, whereas the black vulture will primarily be found in the Southern portion. Both species have adaptations that help them thrive in their habitats.
     Now, what is the difference and how can I spot one?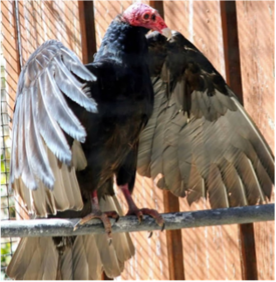 Ratmo, our turkey vulture (left), was born in 1991, making her 31 years old. Much like her name suggests, she loves his rats!
     Turkey vultures have a characteristic red, featherless head that keeps them clean as they are ripping through carrion. These individuals have an excellent sense of smell that helps them smell carrion from nearly a mile away.
     A behavioral adaptation is that they may defecate down their legs to kill any bacteria that may be there and cool themselves down.
     When not in flight, you will see dark brown and black feathers. However, when they are flying you can see the underside of the wing which is dark at the shoulder, and lighter on the bottom portion. Also, their wings are held into a V-like shape and will appear as though they are "wobbly."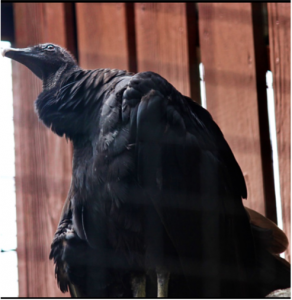 Morticia, our black vulture (right), was born in 2014, which makes her eight years old! She loves her meatballs. At first, she may be a bit skittish, but will warm up to others quickly.
     Black vultures also have a featherless head, but it is black in color. Because of their poorly developed sense of smell, multiple black vultures may follow turkey vultures toward carrion in the hopes of outcompeting the turkey vultures for the food.
     The syrinx, or the voice box of a bird, is not found in the black vulture, so they are only capable of making hisses or grunts.
     Other than when they defend their nest, black vultures are fiercely loyal and will share food with relatives and will even feed their young after fledging.
     Unlike the turkey vulture, black vultures will appear completely black when not in flight. Once they are soaring above, you can see the underside of their wing that is almost all black except for the ends of their top few feathers. The key to remembering this is that they look like they have "fingers" on the end of their wings.
---
Why are Vultures Important and How Can You Help?
     As scavengers, vultures act as nature's cleanup crew by eating carrion before it decays and using their extremely acidic stomach acid to kill any bacteria or pathogen that the animal may have carried. Consuming the infected carrion benefits not only animal health, but also human health as it prevents bacteria and pathogens from entering waterways.
     Vulture species range anywhere from Least Concern to Critically Endangered, so it is important that we do our part to conserve their populations. There are several ways you can help vultures, starting with educating others with your newfound vulture knowledge! You could talk about their unique adaptations, importance, and ways that humans can help. Also, by visiting zoos such as the Lehigh Valley Zoo, you are supporting the conservation initiatives taken by these facilities.
Written by Cassidy Amerman
Education Specialist
Lehigh Valley Zoo | Schnecksville, PA

Photos courtesy of Nancy Dawley