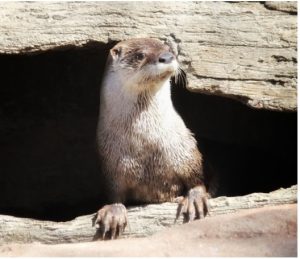 In honor of World Otter Day, we are otterly excited to officially introduce our North American River Otter, Piper! She came to us from the Maryland Zoo in Baltimore, and we are so thrilled for everyone to get to know her. She joined our current resident, Luani, on exhibit at the end of March 2023, and we cannot wait to see how their relationship continues to grow. Read her bio below to learn more about her and be sure to come out to see our otters in person at the zoo!
---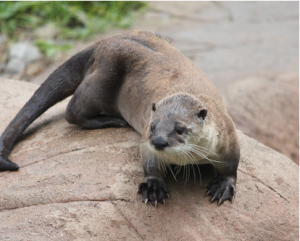 About Me
Name: Piper
Species: North American River Otter
Age: 8 years
Nickname: Pipes
My significant otter: Luani
---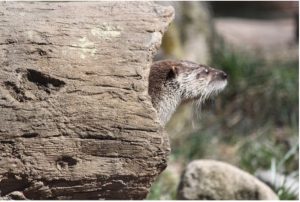 My Interests
Favorite food: Small fish like capelin, sprat, and smelt
Favorite enrichment: My turtle kiddie pool filled with pine shavings so I can roll in them
Favorite hobby: Kick out all of the bedding that I'm given in my nest by my keepers to make sure they have plenty to clean up the next day
Favorite nap spot: Either in the log in the front of our habitat or under the rock cave, if I feel like kicking Luani out of it
---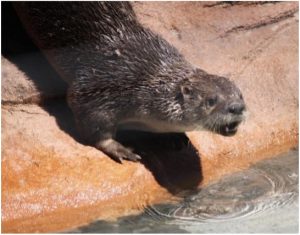 Education & Experience?
Education: I'm a super quick learner, and I'm eager to learn new behaviors because I love to train!
Skills: I love to be vocal!
Behaviors: Target
In progress behaviors: Perfecting my open mouth behavior and learning to station
Best piece of advice: Life is too short; don't be afraid to say what you feel!
Future plans: Looking forward to meeting new people;

sign up today for your chance to meet me and my significant otter

, Luani, in a private encounter!
---
     Because Piper and Luani are an approved breeding pair through their Species Survival Plan (SSP), we are hoping in the future to be able to welcome more otters to the Lehigh Valley Zoo. For now, we are enjoying getting to know Piper and watching her budding relationship with Luani blossom. Stop by the Otter Stadium to see them in person and to help them celebrate World Otter Day!
Written by Natalie Hildebrand
Lead Conservation Education Specialist
Lehigh Valley Zoo | Schnecksville, PA