Schnecksville, PA – Lehigh Valley Zoo and Lehigh Valley Reilly Children's Hospital (the official motherhood partner of the LVZoo) are excited to announce the birth of a male Scimitar-horned oryx calf! The zoo is happy to report mom, Ducati, and the new calf are both healthy and doing well. The yet-to-be-named calf was nursing from mom and standing within an hour of birth.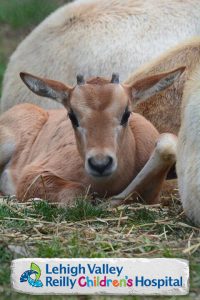 Since Scimitar-horned oryx are considered extinct in the wild, this is a huge celebration for the Zoo, which is a member of the Association of Zoos and Aquariums and a participant in the Species Survival Plan for Scimitar-horned oryx. Extinct in the wild since the mid-1980s, oryx are being reintroduced into the wild in Chad and (as of March 2017) 35 oryx have been successfully released into a remote area of Chad. The reintroduction programs with the help of zoos, government agencies, and private game preserves are working to build a self-sustaining population of 500 wild oryx over the next five years. This is a program in which the LV Zoo participates to help save species and as an organization has had oryx released back into the wild.
Oryx calves weigh an average of 22 pounds at birth and measure approximately 25 inches from the shoulder to the hoof, whereas human babies average seven-and-a-half pounds and approximately 19 inches from head to toe. At full growth, males oryx will go on to weigh between 310–460 pounds and measure anywhere from 55–94″ from the head to the base of the tail whereas an average 20-year-old human male weighs 197 pounds with a height just below 5′ 10″.
---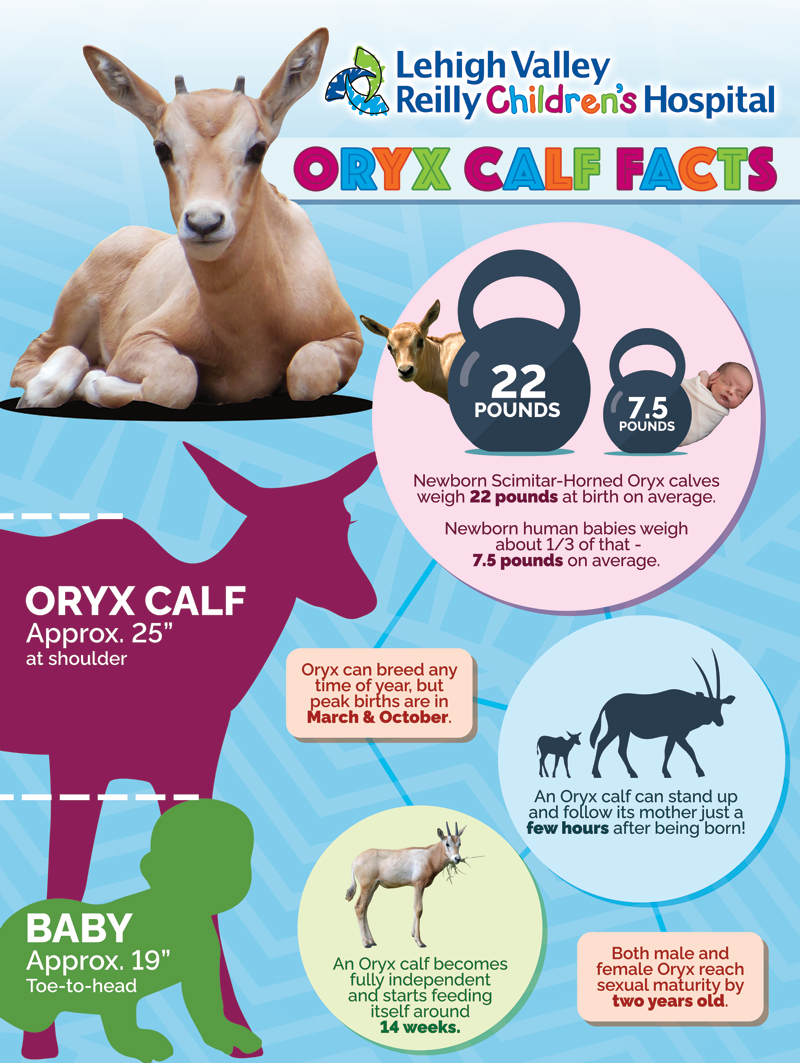 ---
Additionally, oryx pregnancies last between eight to eight-and-a-half months and the young become fully independent at around the 14-week-old mark. Calves are born with yellow coats and lack distinguishing marks, which appear later in life. Their pelage changes to adult coloration at 3–12 months old. Both male and female calves reach sexual maturity by two years old.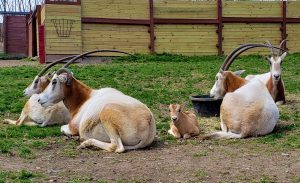 Our newest zooborn is adjusting well to life with the herd and can be seen running around the exhibit every morning, which our keepers lovingly call oryx zoomies! Already, our keepers noticed he has a very outgoing and stubborn personality so mom is doing an excellent job of keeping a close eye on him. Stay tuned for future posts on our social media as we begin thinking of zooborn names!
Want to help care for the Zoo's new zooborn? Please consider donating to the Lehigh Valley Zoo during this critical time! We so appreciate your support and can't wait for everyone to see the calf in the future. We'll keep you up to date with photos and videos in the meantime on our social media accounts!
---