Lehigh Valley Zoo joins the Association of Zoos & Aquariums in celebrating Women's History Month (March) and International Women's Day (March 8, 2021) by highlighting some the incredible women who keep the mission of conservation alive and at the forefront of public discourse. All week long, Lehigh Valley Zoo has been celebrating some of the inspiring and hard-working women who keep our organization running!
In case you missed them, you can read our spotlight posts below!
---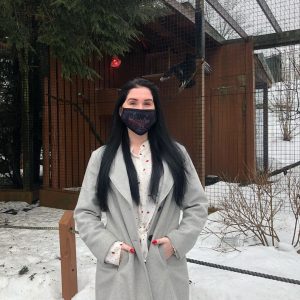 Hi! My name is Julia Seeley and I am the Manager of Promotions and Special Events at the Lehigh Valley Zoo! I have worked for the Zoo for about 4 ½ years and have enjoyed every minute of it! I had originally started my career journey as a Speech Language Pathology major but it wasn't until I discovered my school's Recreation Service Management program and their Event Planning track that I found my true passion! My favorite part of the event/recreation industry is the inclusivity! Everyone can appreciate an opportunity to cut loose and enjoy themselves and it's my job to make sure you have the best experience possible while doing it! My advice for others in the field is to have confidence in yourself and never turn down an opportunity to learn and grow your skill set!
---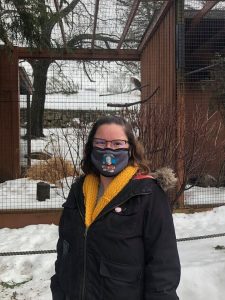 Hello, my name is Katie Lerch and I am the Volunteer & Events Coordinator here at the LVZoo! I can safely say that I never thought that this is where my professional journey would take me, but I finally found a job that makes me feel like I'm making a difference and that I can be truly passionate about. Volunteering and non-profit work is in my blood. Growing up I was the 'mandatory volunteer' for my Mom and her work as a therapeutic riding instructor for the handicapped. So many times as kids we think we never want to be like our parents when we grow up but looking back I am so incredibly grateful to have had such a strong, resilient, kind, caring, hard working woman to raise me and be my role model.
My journey reminds me a lot of one of my favorite quotes by the author Tolkien, "Not all those who wander are lost". I started by going to college for photography and the dream of being an artist. After graduating, I followed my interest in computers and technology into doing tech support, found my way back to art by teaching crafting classes to kids and adults, and then found my true purpose working with the volunteers at the Lehigh Valley Zoo. You never know where that first step will lead you but sometimes it takes you to exactly where you're meant to be.
I am inspired daily by the drive and focus of my coworkers (many of them also women) working in a field that seems to be in a never-ending fight against the odds. I am proud to be a member of a team that works to bring global issues home to a local audience and connect people with a common purpose of animal and environmental conservation. Women know how to get the job done!
---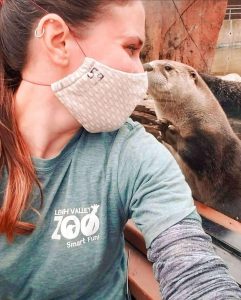 Hello! My name is Cait, and I belong to the incredible team of zookeepers at the Lehigh Valley Zoo. I have been working here for nearly six years, so I have taken on a number of other roles as well, including the enrichment coordinator for all animals that call the Zoo home, an exhibit designer for our RAD center, otter trainer, and an operator of the Inside the Zoo blog. I have so many different passions, and I am so grateful that this career has given me the opportunity to explore them all, while allowing me to help build a better world for wildlife.
Probably the best part of working in this field, however, are my coworkers (many of them incredibly talented women). The passion behind every face that walks into the office in the morning is an inspiration. We are not in the business of simply caring for animals, but helping our animals thrive, which means that each and every person within this zoo goes above and beyond what the public may see, eagerly taking on every role that comes our way. No one here is simply a zookeeper, nor simply an educator. We are biologists, behaviorists, artists, veterinary assistants, nutritionists, and trainers.
I would not be half the keeper I am today were it not for the women who trained me. If I had one bit of advice for any woman entering the field, it would be to bring every talent, every bit of passion you have, to your work, and you will thrive.
---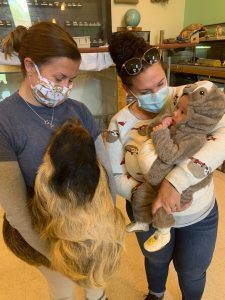 Hi everyone! My name is Cher, and I am part of the incredibly talented group of women that make up our education department at the Lehigh Valley Zoo. I have been with the zoo for 6 years and have gotten to play a part in the growth of the zoo that has been made possible due to the knowledgeable and passionate women that work here.
I recently became a new mom, and that has brought even more purpose to what I do in my career every day. Not only am I able to make an impact on what the world will look like for her when she is older, but I also have the unique opportunity to share the ins and outs of this field with her. I'm looking forward to being a role model for her while continuing to share my love for animals and nature. I hope to instill in her a great sense of awe and wonder for the natural world.
All of this is possible because of the entire team here at the Zoo. I would not be the leader, educator or conservationist I am today if it wasn't for all the women I have had the pleasure of working with over the years. We all enjoy getting to share our knowledge with the community and we look forward to continuing to provide unique and educational programs for you all!
---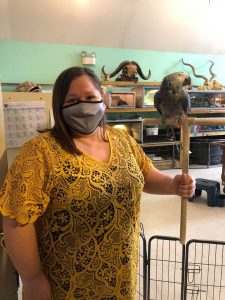 Hello, zoo lovers! I'm Stefanie Schulberger and I'm lucky to work for the animals that call Lehigh Valley Zoo home! As if that's not amazing enough, I work alongside some of the most dedicated, caring, tough, and inspiring women I've ever had the pleasure of working with.
As the Director of Development, I oversee our membership program, grant funding, and donor relations. But, I like to tell people I make sure Murphy and Tatu, our Masai Giraffes, have enough money to remodel their bedrooms!
A little about my background, I earned my BFA from Tyler School of Art in Glass. After college, I started my career as a bank teller. During my 5 years there I worked towards becoming an Assistant Branch Manager, which involved community outreach. I served as an executive team member with a non-profit, which eventually led to a full time position fundraising in the Berks County Community.
Over the years I have remained involved in glass, and I am currently a part time instructor at ArtsQuest Glass studio. I never envisioned working for two local non-profits, but it turns out that my passion for connecting with and helping people would lead me to my 'point B'; working for organizations that have roots in building a stronger community.
Banking was not a passion of mine, nor was it a strength (I was terrible at math) but without that 'point A' I most certainly would not have ended up at the Zoo. Never discount an opportunity, and never stop working to promote yourself. Opportunities pop up at the most unlikely places. The biggest takeaway I've had from my journey is surround yourself with a support system and never be afraid to ask for help.
---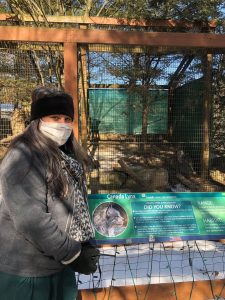 Hi my name is Rose Kline and I've been the Accounting Coordinator at the Zoo for almost 3 years. I have a lengthy background in Financial Planning having spent 17 years as the Executive Assistant and Customer Service Manager to multiple Certified Financial Planners.
Presently, I split my time managing the daily flow for the Finance Department, Workers Compensation, Human Resources and Payroll. When I'm not in the Finance world, I utilize my Public Safety experience by co-chairing the Zoo's Safety Committee. I'm also an EMT and First Responder.
Some might think that the Finance world and the Public Safety world do not share many similarities, however, I feel they do. Every emergency situation has a financial impact somewhere along the line, whether it is personal, commercial or environmental – sometimes all three. Attention to detail, prioritizing tasks and situational awareness is a must. My experience in both sectors benefit the Zoo and allow me to maneuver through the administrative tasks in both worlds easily. I have a better perspective to keep risk-management at the forefront of my daily decision making process.
Some advice I would offer to young women is don't feel pressured into making a career choice. Look for what you enjoy and what you gravitate towards. Work doesn't feel like work when you enjoy what you do!
---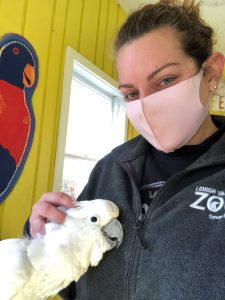 Hi! My name is Jessica and I am an Animal Keeper at the Lehigh Valley Zoo. I have been in the animal care field for 5+ years and have worked with a variety of different animal species but birds have my heart.
I was lucky enough to graduate from Delaware Valley University with a degree in Zoo Science. While growing up, I was taught to never give up on your dreams and fight for your passions. Getting into the animal care field is very difficult. My advice to any volunteer or any intern I meet is that every internship is always a working interview. That's my story of how I was able to get into the field. The animal care field was historically a male dominated industry, but because of the hard work of women, a dynamic shift has occurred. Being a zookeeper is more then just picking up poop. We are the ones that are responsible for every breath the animal takes whether it be a lion or a parrot or a tiny little mouse. Another keeper, Cait, said "No one here is simply a zookeeper, nor simply an educator. We are biologists, behaviorists, artists, veterinary assistants, nutritionists, and trainers.
The team of animal care professionals at LVZoo have conservation at the front of their minds. Conservation passion is influential and people will only get excited about it if you're excited. Being passionate and expressing that passion to others helps develop a change and a potential mind shift in the world. Find your passion and express it. Learn to drive a tractor, travel, learn a new language, don't let anyone stop you from following your dreams. Be yourself, shine bright, sparkle on because there is only one of you!
---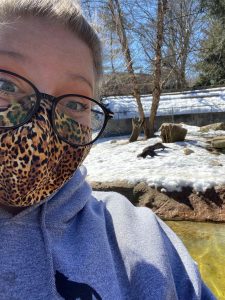 Hello! My name is Maggie and I am the General Curator here at the Lehigh Valley Zoo! Raised by intelligent and independent women, I give my mom, aunts, and grandmothers credit for fostering my appreciation for wildlife and nature. They instilled in me how important it is to have women involved in science. Working alongside of many inspiring women, I am proud to say that I have been involved with AZA zoos and aquariums for over 10 years; starting in my backyard at the Philadelphia Zoo.
Now, I am proud to be part of the dynamic team here at the Lehigh Valley Zoo; encompassing many strong, smart, talented women! We are biologists, zoologists, educators, scientists, nutritionists, horticulturists, engineers, and so much more. We are leading the front line to continue to inspire women and men to follow in our footsteps to save wildlife. I am proud to help lead and work with this team of extraordinary women who really should be called super heroes!
---
Hi! My name is Katie, and I am fortunate enough to be a part of the incredible animal care team at the Lehigh Valley Zoo. Being a zookeeper was one of many career goals I had as a child, but as I grew older, it did not seem like it would ever be a reality. However, I kept a passion for the biological sciences, particularly human and animal behavior, and majored in neuroscience at Muhlenberg College. I also had time in college to pursue some of my other passions, so I ended up with a minor in studio art, focusing on photography, and continuing my parkour training.
During my senior year I realized that I didn't have a plan that I liked for after graduation. One of my professors asked me what I had wanted to do as a child, and I rattled off a whole list of animal and conservation related careers, helping me realize the direction that I needed to go. I became an animal care intern at LV Zoo to gain some experience with exotic animals, and throughout my internship I fell in love with the job.
After a couple more internships, and a lot of job applications, a keeper position opened up at LV Zoo and I was hired onto this incredible team. I get to be active most of the day, watching and analyzing animal behaviors is a big part of my job, and I am a part of the important education and conservation work in which the zoo participates.
My whole experience in the zoo world has been amazing, and as many others have said, that is so much because of all the incredibly passionate and dedicated people that I get to work with every day. I have learned so much from the two wonderful women who lead the animal care team, as well as from all my coworkers.
From my own story, I've learned that it's okay to not always have a plan. You don't necessarily need to be working towards one career your entire life, as long as you work hard, have a passion for your work, and have the willingness to humble yourself and learn new things.
---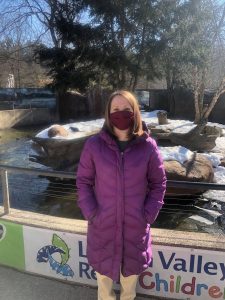 #HappyInternationalWomensDay! Thank you for following along as we share the stories of the amazing women who help run the Lehigh Valley Zoo. As a #femalestrong organization, we hope these posts have inspired you to chase your dreams and passions; perhaps including even one day becoming a CEO. The sky is the limit!
Hi, my name is Amanda and I am the President & CEO of the Lehigh Valley Zoo. I came into this role without any zoo, education or conservation experience, but with a strong business background and an overwhelming desire to see our small nonprofit zoo be successful. I know I share that desire with all of the men and women I work with daily and I feel honored to be able to help them reach their individual and team goals. I am inspired by our incredibly hard working staff every single day. Like many other small businesses, we went through a lot last year during the pandemic and, while I know that is not over, our team is so very excited to be thinking and planning for the times when it will be. To see the staff's excitement about our future plans and goals and their motivation towards our renewed efforts in education and conservation continues to inspire me.
While I didn't grow up wanting to be a zoo keeper or veterinarian and I have not (yet) spent time in or outside of the field doing research, I don't think that makes me any less qualified to run our zoo. I am excited to continue to learn about these things and to grow myself and our staff so that we can better contribute to conservation efforts in the future. I hope, that as a woman in executive leadership, to inspire my staff and others not to limit themselves and to give them the support they need to continue to do great things!