If you've been to the Lehigh Valley Zoo, you've probably met some of our most popular residents like Tatu the giraffe, Magdalena the Mexican Grey Wolf, and our flamboyant colony of African Black-Footed Penguins. But did you know there's a whole collection of animals that live behind the scenes here at the zoo? These animals are referred to as our ambassador animals and they have a very important job to do. Long before the Lehigh Valley Zoo rolled out their new conservation initiative known as PACTS, our ambassador animals have been teaching guests of all ages conservation concepts and ways in which they can help animals (in a fun way)!
The Lehigh Valley Zoo's accrediting body, the Association of Zoos and Aquariums (AZA), states: "The presentation of ambassador animals can provide the compelling experience needed for visitors to gain and maintain personal connections with their own relationships with nature."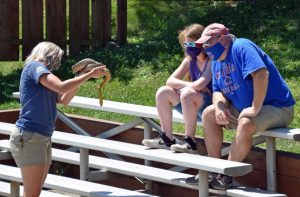 So how do our ambassador animals do this? We're so glad you asked! Our ambassador animals partake in a wide variety of educational programs both on zoo grounds and off. Have you ever seen a box turtle participate in a training session or had the opportunity to feed a sloth an apple? During our programs, guests typically get an up-close experience with animals and the zoo's team of knowledgeable Education Specialists have a knack for turning these experiences into important learning opportunities. After feeding our sloth during an encounter, you'll learn how drinking Bird Friendly Coffee is helping sloths in South America. You'll have a wonderfully interactive experience and will leave feeling empowered to help animals of the rainforest! We recognize that after giving guests the opportunity to build connections and have personal experiences with our ambassador animals, they'll feel more inspired to take action in the fight to conserve wild animals and wild places. Afterall, the prime directive of Lehigh Valley Zoo's mission is conservation. We are dedicated to saving species from extinction and preserving the natural world around us.
The Education Department at the Lehigh Valley Zoo noticed that they were using five distinct conservation themes when teaching guests about how they could help species in the wild. Using these themes, we wanted to create a formalized initiative that could be used not only in education programs but across the whole zoo and in a way that makes it easy for our zoo-goers to get involved. Out of this, the Lehigh Valley Zoo's new conservation initiative "PACTS" was born. Each letter of the acronym PACTS stands for a different initiative:
P – Purposeful Pet Ownership
A – AZA Institutions
C – Conservation of the Natural World
T – Together with Nature
S – Sustainable Living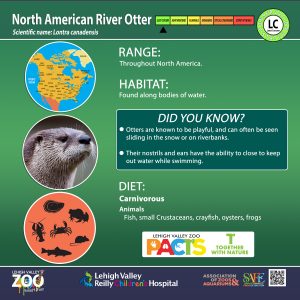 When visiting the zoo, you'll start to notice that we're placing a PACTS initiative on the sign of each animal's habitat. When you're visiting your favorite animal at the zoo, see what letter they're paired with then check out our PACTS page on lvzoo.org to see how you can get involved. (It's worth noting though that not all signs within the zoo have been updated yet). For example, we paired our North American River Otters with "Together with Nature".
Our Together with Nature initiative recognizes the importance of people spending time with nature and that nature provides us with the resources that we need to live. However, with that comes the responsibility to care for the environment and its inhabitants. So how can we do that? Don't litter, Leave no Trace and follow their 7 principles for minimum impact, and coexist with the wildlife around us. It sounds simple but if we all do our part, we can make lasting imPACTS.
As for our ambassador animals and educators, we will continue to work within the zoo and the community to establish connections between people and animals and inspire action. However, the responsibility to conserve is great and there is only so much ground that our small team can cover. As we roll out our PACTS campaign across the zoo, we're sharing the responsibility with you. We hope you'll join us in our fight to save species and preserve the natural world around us.
You can read more about each PACTS initiative, why it's important, and how YOU can get involved here:

Written by Alana Roth
Education Specialist
Lehigh Valley Zoo | Schnecksville, PA