Ambassador Animal Paintings
It's the holiday and gift giving season! Do you know an animal lover and are looking for a one-of-a-kind gift you cannot get anywhere else? The Lehigh Valley Zoo team has been working hard over the last few months to provide animal paintings for guests to purchase as holiday gifts. Our Ambassador Animal Paintings are a form of enrichment that enhances animal welfare here at the zoo. The zoo's animal enrichment program focuses on five different types of enrichment – Social, Physical, Cognitive, Food, and Sensory. The education team can provide almost all our animal enrichment categories in just one painting session.
Social – The animals are experiencing socialization with their keepers, trainers, and the education staff.

Physical – The animals will either walk across the canvas in some way or hold onto a paint brush, both will involve the animals using muscles and movement to participate in the painting.

Cognitive –The animals need to use their brain to problem solve and focus on the task and behavior being worked on.

Food – As a form of reinforcement for training, receiving food at different times during the day and in variety of ways will change up any normal routine and increase their welfare.

Sensory – As the animal walks across the paint, they experience new touch and smell sensory experiences. We can also change up their sense of sight by using different colors that they might not be exposed to in their habitats. Bright pinks and purples are not as common in their habitats as brown and green!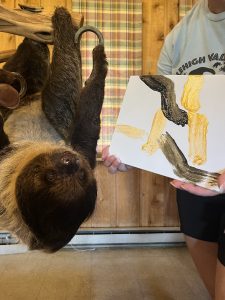 Linnaeus Two-Toed Sloth – As part of our training program, "Bean" paints with a modified paint brush to make his wonderful masterpieces. Trainers will hold out the paintbrush to him and he holds onto it with his hand while a canvas is held to the brush. As he eats his favorite snacks from a hole drilled in the handle of the brush, a beautiful painting is created.
---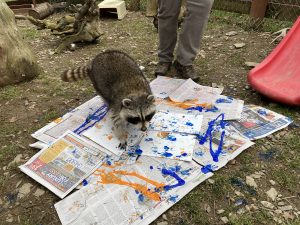 Raccoon – "Meeko" creates her masterpieces in her habitat by completing her A-B behaviors around her holding. Trainers work to send her back and forth across the paint so that her footprints are captured on the canvas. Meeko has been working on her Hand Wash behavior to clean off the paint from her hands when she is done.

---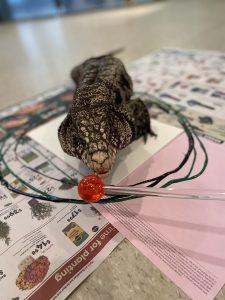 Reptiles – "Morrie" the Tegu and our other reptiles (box turtles and other lizards) will paint in a similar way to "Meeko", but they will follow their target sticks around our Zoo Imagination Wing as they paint the canvas with their footprints, tail prints, and scales. Snakes are one of the most difficult animals to train due to the amount of time in between feedings. For a snake painting, our snakes will have their exercise time on the ground so they can slither across the canvas if they feel like it.

---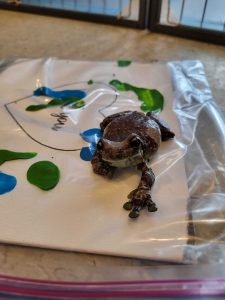 Frogs – Our Milky Tree Frogs are one of the hardest animals to paint with due to their ability to absorb water and chemicals through their skin. Using Reverse Osmosis water (purified water) that is safe for amphibians, the education team can have the frogs hop across a clean canvas leaving water marks and then back fill those wet spaces with watercolor to provide color to the painting. We have also had them hop across a canvas covered in painting and placed in a Ziploc bag. We can use their current target behavior (following a laser pointer) to help them across the canvas if needed.

---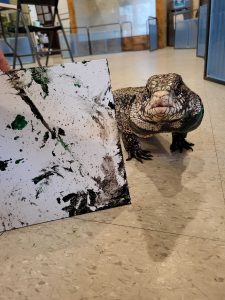 The paint that is used by animal care and the education team is Tempura Paint. This paint is a water-based paint that is generally non-toxic and safe to use with children and with animals. Any paint is washed from the animals after the session, but only after a picture with their masterpieces!

To purchase the Lehigh Valley Zoo's animal paintings, you can visit our Etsy Shop named LVZoo to find the most recent original paintings or to purchase high quality re-prints!