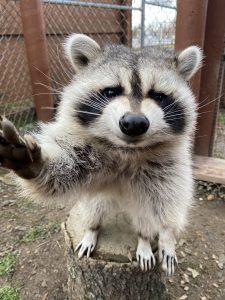 Meeko – Education Raccoon

Meeko, the nine-year-old raccoon is an important member of our education department. She plays a critical role in helping our guests connect to animals native to Pennsylvania. Through our Animal Encounters program, we aim to teach guests about the importance of keeping wild animals wild. Due to their charismatic nature, many of a raccoon's behaviors help guests in our program feel connected to the animals, such as having advanced use of their front paws.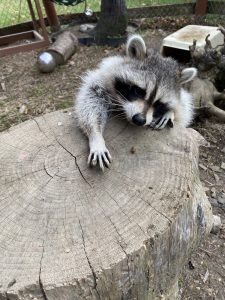 Raccoons have excellent control of their paws and extended digits. They use their front paws to manipulate objects, including placing the item in the water to allow the extra receptors on their paws to better feel the objects. Raccoons have extra nerve endings that run into their paws in order to get a heightened sense of touch. With nimble digits and sensitive pads, raccoon forepaws are extraordinary tools for survival. As opportunistic omnivores, they will eat anything they can get their paws on, so it's an advantage to use their forepaws to test items and make sure it's safe to eat. One of Meeko's favorite snacks is super worms.
Like most of the animals at the zoo, Meeko is part of our animal training program. The goal of these programs is to positively impact the animals' welfare while building a relationship between the animal and their caretakers. A trainer will develop a list of different behaviors that will keep the animal both mentally and physically stimulated, some may even help our keepers take care of them. There is a wide range of behaviors that an animal can learn that depends on the animal's intellect and physical ability. The first behaviors we begin with are, target, station, and crate. These behaviors allow the animal to voluntarily participate in their care. Trainers can target animals to different areas of their habitats, have them station to a specific location, or have them voluntarily crate to make any transportation a more positive experience. After getting the basics, animal trainers can build off those skills and work on more advanced behaviors.
The newest behavior Meeko is learning is called Recycle. The goal of this behavior is for Meeko to use her front paws to move a plastic water bottle into a recycling bin. Meeko will be displaying her natural behaviors by using her forepaws to move objects as she would out in nature. It also provides mental stimulation as she has to carefully move the bottle to the appropriate place. She is exercising mentally and physically, increasing her overall welfare here at the zoo. While the behavior is not complete, Meeko is getting closer to understanding Recycle and moving the bottle into the recycle bin.
If a Raccoon can do it, so can you –
With 8 million metric tons of plastic entering our oceans every year, the Lehigh Valley Zoo's Know Plastics Campaign, in partnership with PA Virtual Charter School, has never been more important. As marine life interacts with the plastics in the oceans, there is an increasing number of plastic pieces ending up inside of animals, since they often mistake it for food. One example of this is sea turtles that commonly mistake plastic bags floating in the water for jellyfish. As more than 700 marine species are impacted by plastic, the best thing we can do is reduce the amount we use and recycle the plastic that we cannot avoid.
Single-use plastic is a common occurrence in our lives. It can come in many forms but is usually found in packaging, service ware, straws, bags, bottles, wrappers, and more. There are many alternatives for these items that can help reduce the amount of plastic used in our everyday life.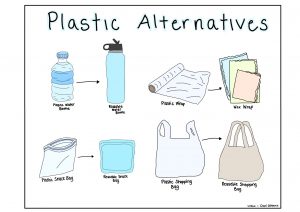 When reusable alternatives are not an option, reusing and recycling single-use plastic is important. Many objects can be reused multiple times before properly discarding them. At the zoo, there are many ways we try and reuse items to give them a second life. Paper and cardboard products can be used for animal enrichment; hiding food, scents, favorite objects and snacks inside provides a great puzzle for the animals. We can also reuse washed plastic containers from items such as peanut butter and coffee to create puzzle feeders for our animals.
Every little step taken can go a long way. Join Meeko, take the pledge, and start feeling great about saving the environment. Visit our #KNOWPLASTICS page
Written by Dani DiMarco
Education Specialist
Lehigh Valley Zoo | Schnecksville, PA

---